Are you the laundry queen?
Can you do it all?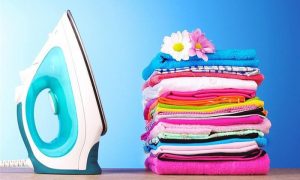 Can your child become whoever she wants to be?
What about you? Did you become whoever you wanted to be? If you didn't why would your daughter be? Are you teaching her she can focus on her career and let the kitchen be for what it is? Do you say the same to your son?
We are amazing super women, we can do it all.
And I am very proud that you can.
I know you are the best at cleaning your house, the best at doing your own laundry, and you know way better than anyone else what your kids need. Your kids need you all the time, your partner needs you, your home needs you and your business? Yeah, it would be great if you have some time left to start a side business or write a book or something.
But first, let's clean that kitchen counter.
Or put an extra load in the laundry.
….
No!
….
I am saying no to that! Even though you'd be great at landscaping too, and teaching your kid and remodeling your home, or making your clothes, you don't do that either right? Or maybe…? Ha!
And what are you teaching your kids? That they can become anything they want to be? Do you tell them that comes with laundry, cooking, cleaning, picking up kids from school every day? Do you tell that to both your daughters and sons?
I don't know you yet (although I'd love to meet you & get to know you!)
But most parents only tell them that they can become anything they want – profession related. Wouldn't it be great if you could show them the EXAMPLE that you became whoever you wanted to become?
Did you become the person you wanted to be? (There is still time….).
You are most likely an amazing mom, your kids see that. But please show them that they can really make their dreams come true by you making your dreams come true.
Your kids will admire that and will want to strive for the same.
Overnight success will probably not happen, but its an amazing example for your kid to show that you can take steps every day to become the person you want to become.
There is more to life than doing the housekeeping and laundry. I hope you'll show your kids that too!