Dear Whittier resident!
We are very excited to service you in Whittier, CA 90602 with Laundrylicious.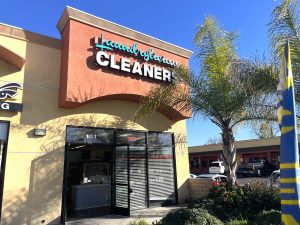 We opened the store in Whittier in December 2019, formerly called Nader Cleaners on the corner of La Mirada Blvd and Mulberry Ave. And we would love to invite you to visit our store. We have made many upgrades including adding new machines and repaired old machines that were still there.
We have installed a commercial water softening installation, new flooring, tv screens that show our promotions and added work space for our team, so we are ready to service you now and in the future.
Now you know that Laundrylicious is nearby, and even though one of our nearest stores to you is right here in Whittier. We also offer pick up and delivery from your home or work address 7 days a week between 7am-9pm.
Don't hesitate to try out Laundrylicious for your regular laundry and dry cleaning needs.
Would you like a pickup? We can come today! Or visit us at our store.
Our opening hours have been fluctuating at this store, because of the effects of covid on our team and business. However, we try to keep our opening hours Monday-Friday from 7am-6pm and on Saturday from 9am-5pm. Feel free to text or call to make sure our team is there to help you, or schedule a pickup online.
There is ample parking in front of the store.
Regards,
Marieke
– Owner/Founder of Laundrylicious